Go, Deano!
Saturday, March 20th, 2010. Burnley Football Club, Turf Moor, Lancs: Burnley Brawl 3 – UK BAMMA EVENT
Spartan Free Fighting from my hometown of Nelson, Lancashire is a mixed martial arts club who have been great clients of mine since late last year, 2009. Always one to support local businesses in my neighbourhood, tonight's victory deserved a dedicated article from me. I designed their logo and supply all their printed team-hoodies and t-shirts for training and fight-nights. A dedicated bunch of lads with a few 'heavy hitters' amongst them, Deano Miles is the scarier one out of 'em all.
BAMMA – British Association of Mixed Martial Arts
Burnley Brawl 3 is the third installment of a series of regional events organised by BAMMA. Through their hard work, MMA Fighting is becoming the most explosive and popular sport all over the world.
Burnley Brawl 2 – So Close, Yet So Far
A personal friend as well as client, I have witnessed first-hand the dedication this young cage-fighter puts into his training. He narrowely missed out on a debut fight victory in Burnley Brawl 2, November 2009, against more-seasoned fighter Anthony Diprose. Even after flooring Diprose twice in BB2, and being crowned 'fight of the night' Deano narrowly missed out on a debut victory that would've been epic. Seen as one of the major 'underdogs' on the night because of his lack of experience, Deano quickly shut the doubters up by giving Diprose a fine dash for his cash. That's why I'm personally proud to hear of Deano's win earlier today against Ashley Spencer, at Burnley Brawl 3, held at Turf Moor, Burnley.
Burnley Brawl 3 – Pro Debut Victory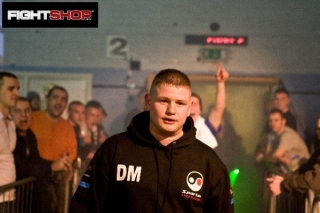 Altogether, three Spartans fought tonight. Both Simon Greenwood and Declan Cuttel are confident Spartans, but both lost their bouts in the first round, to Mark Sinclair and Daniel Howard respectively. This made Deano's win even more well-deserved. Tonight, 20th March, was his professional debut fight, so I am sure he is out celebrating with a few barrels of 'the good stuff' right now, as I sit here updating this post. It's only been a couple of hours since the event happened but I have had the victory confirmed through fans on facebook, so I still haven't seen the video of the fight. Everyone is probably out getting wasted now to celebrate, so I think I'll wait till the morning to get the full lowdown on the fight. It's good to see local talent being appreciated, 'we live in this darn town, we are what makes it where'.
The boys at Spartan are on top of their game so this victory is one for all the team to savour. It must feel good smashing someone's face and then being applauded for it by every Tom, Dick and Harry. Even though I couldn't attend the event tonight due to work commitments, I can still show my support for my clients with a well-deserved article here on artbyherbie.com. In no time, expect to hear the name 'Deano Miles' amongst the big boys at the UFC Championships
SFF – Fresh new logo, hoodies and t-shirts
I re-branded the SFF 'ying yang' logo as the old one looked a bit dated and needed a sexier font to bring it bang-up-to-date. Initially, their logo consisted of the 'ying yang' design with 'Spartan Free Fighting' curved around the top, in the most boring font, Arial. To make it more definitive, I decided to seperate the 'Spartan' and 'Free Fighting' lettering.
I remedied this by choosing a more modern font which made the first 'S' look like the helmet of a Spartan warrior (I'm sure most of you have seen the movie '300' so I won't go into the history of the Spartans and their conquest over the Persians). Adding 'Free Fighting' underneath in italics finished the look. The boys loved it and made Spartan look more professional and 'big in the game', if you get my drift!
no images were found
This is the freshened new logo, adorning all their t-shirts and hoodies. Sometimes it's better to just refresh an old identity rather than create a whole new one. I think it came out great, don't you? THIS IS SPARTAAAAAAAAAAAAAA! (sorry, I just couldn't resist). On to the next fight now Deano, let's make 'kicking ass' a habit, you ol' clubber, you! Well done!